Insinkerator Garbage Disposals
One of the most indispensable and mostly used items in our modern kitchen is our garbage disposal that makes food preparation and clean-up a breeze. Mounted underneath our kitchen sink, it grinds up food scraps that go into the drain with a heavy flow of water. The blades break down food debris in its grinding chamber and then an impeller arm and plate forces the liquid and debris down into the drainage pipe. Water coming from the dishwasher also runs through the garbage disposal unit so that any large particles are caught, grounded up and flushed into the line.
A good quality garbage disposal can usually last many years or more depending upon its proper care and usage. Simple problems are easy to repair; but with a serious problem, you are better off replacing the whole unit. Here at Davis Jr. Plumbing we recommend using the Insinkerator brand disposals.
Lots of people stuff everything and anything into the garbage disposal. But did you know that there are quite a bit of things that can be damaging to your disposal and plumbing systems?
To make your disposal work at its best: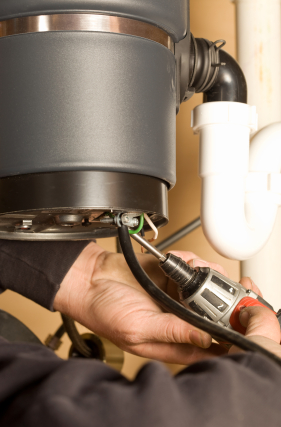 Use cold water when grinding food (hot water can melt fats and cause a clog in the disposer's mechanism and the pipes
Do not overfill
Do not pour bleach, drain cleaners or other chemicals into the unit
Do not grind overly fibrous materials (such as corn husks, onion peels, artichokes or celery stalks), bones, rice, coffee grounds, egg shells, fruit or vegetable peelings, or such materials as glass, rubber or metal
Always run water before and after you use your disposal
When something is caught accidentally in the disposal, switch off the unit and use tongs or needle-nose pliers to extract the item out. Never use your hand.
To clean a garbage disposal of built-up sludge and debris, fill it with ice cubes and a cup of rock salt and then run it for about five seconds. If your garbage disposal smells, you can deodorize it by running water down while you grind a lemon.
In the event your garbage disposer ceases to work, you can check the reset button. The garbage disposal has an overload protector that senses if the motor is overheating and shuts it off. If your garbage disposer cuts off during operation, it may be this broken electrical connection. The best thing to do is:
Turn the garbage disposer switch off.
Do not put hands or objects down drain.
Make sure the appliance is plugged in securely at the outlet.
With power switch turned off, press reset switch on front or bottom of the garbage disposer.
Restart garbage disposer by turning on power switch.
Should you experience a garbage disposal that doesn't work, you can contact Davis Jr. Plumbing, Inc. where our plumbers are experts in the repair, installation and maintenance of garbage disposals. Contact us if neither of the options mentioned alleviate your garbage disposal problems.
---
Contact Davis Jr. Plumbing
~ 24 Hr Emergency Service ~
Lee County (239) 558-8599 * Collier County (239) 800-2440
"Affordable Plumber Prices"
~ On-Site Free Plumbing Estimates~
Plumber Cape Coral, Fort Myers, Naples, Bonita Springs, FL